Affiliate Chapter Event: FSU Trumpet Summit
The Florida State University (FSU) Trumpet Studio and the Tallahassee Trumpet Guild (an affiliate chapter of the International Trumpet Guild) hosted the First Annual Trumpet Summit at Florida State University on November 7-8, 2021.
39 people were in attendance, including middle schoolers, high schoolers, FSU and non-FSU undergraduate and graduate students, as well as numerous community members. Dr. Nancy Taylor, currently on the faculty of the University of Texas at El Paso, was the featured guest artist. Taylor gave masterclass presentations on undergraduate and graduate solo performances, trumpet ensemble performances, and military band excerpts.

Guest artist Nancy Taylor presents a master class
The Trumpet Summit began with a presentation by Dr. Nancy Taylor describing her journey towards becoming the first female trumpeter of "The Presidents Own" United States Marine Band, and how she began teaching trumpet at the University of Texas at El Paso. Taylor is also a board-certified Occupational Therapist, specialized in musician injuries. She dedicated a portion of her presentation to introducing techniques and exercises that she utilizes daily to prevent injury.
Before the first break to visit the vendors, there was a group warm-up for the mass trumpet ensemble given by Dr. Christopher Moore, Professor of Trumpet at FSU. This was followed by a mass trumpet ensemble rehearsal of the Concerto for Seven Trumpets and Timpani, movements II and III, by David Baldwin, and A Hoffnung Fanfare, by Malcolm Arnold, led by Eli Denecke, a doctoral student at FSU. Following the break, Dr. Taylor presented a masterclass that included performances by four undergraduate soloists and a trumpet ensemble from FSU. Students were given excellent insight on performing with ease and with confidence.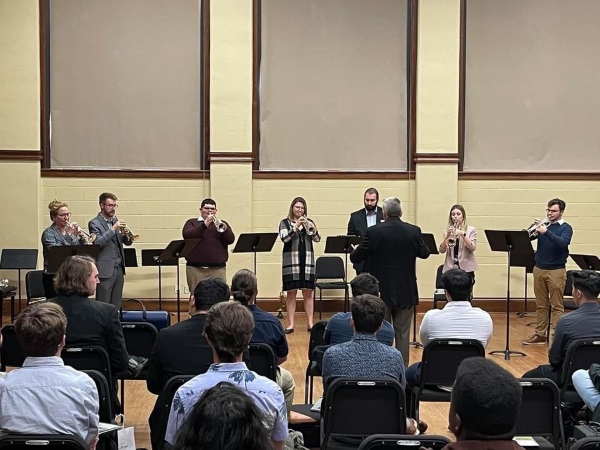 The day concluded with a spectacular combined recital featuring Taylor and the Mass Trumpet Ensemble as well as a presentation by Dr. Taylor on "Why You Shouldn't Play Through Pain: Injury Prevention and Wellness for the Musician." The recital program included works by Albinoni, Horton, Altenburg, Arnold, and Baldwin. The following day, Taylor presented a masterclass on military band excerpts and an additional masterclass on solo performances for the FSU Trumpet Studio's graduate students. Every class was incredibly engaging, and the entire studio benefitted immensely from Dr. Taylor's expertise and insight.
This event was made possible in part by a grant from the International Trumpet Guild.  Additional sponsors included: S.E. Shires Co., Beethoven & Company Music Store, MusicMasters, Playground Music Center, and the Florida State University.
(Source: Christiena Taralson, Doctoral Trumpet Student, Florida State University)