Lone Star State Trumpet Guild Concert
The Lone Star State Trumpet Guild (LSSTG ), an affiliate chapter of the International Trumpet Guild, resumed activities for the first time since the COVID-19 pandemic shut down musical opportunities in February 2020.
The LSSTG Trumpet Ensemble performed a two-hour program at the San Angelo Museum of Fine Arts in San Angelo, TX on Sunday, October 17, 2021, part of the museum's Chamber Music Series. The LSSTG featured standard trumpet ensemble literature, original compositions and arrangements written by LSSTG members, and was joined by the collegiate trumpet ensembles from schools in the LSSTG's footprint.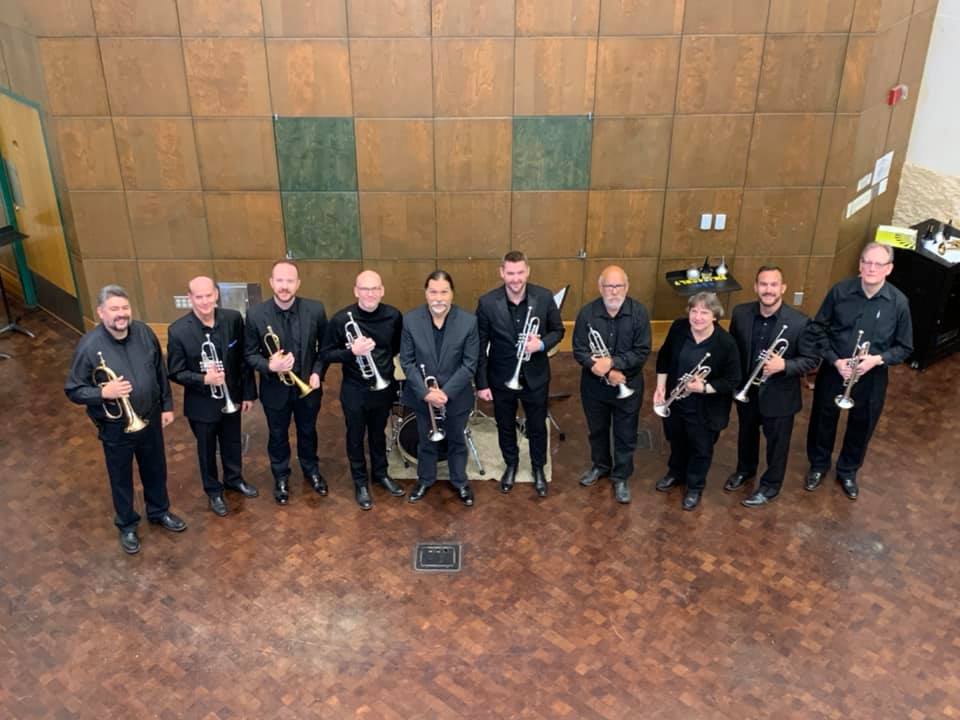 The program was separated into two halves with university ensembles interspersed between LSSTG selections. Compositions in the standard trumpet ensemble repertory by Marcello/Klages, Charlier/Slechta, Granger/Ford, Chpelitch, and Olcott were presented alongside the works of LSSTG members. Original compositions and arrangements included Bernie Scherr's Forever Rising, Andy Patterson's Trumpet Cliché Souffle, and John Irish's arrangements of Piazzolla's Oblivion, the "Evening Prayer" from Humperdink's opera Hansel und Gretel, and Grieg's "Triumphal March" from Sigurd Jorsalfar. The LSSTG finished their performance with James Olcott's Trumpets Take Texas which was written for the 2018 ITG Festival of Trumpets and conducted by Doc Severinsen, with many LSSTG members performing at the Alamo. It has become a favorite of the chapter and a fitting way to end programs.
The LSSTG takes its educational mission very seriously and takes opportunities to feature university students from the chapter's footprint. The event in San Angelo showcased trumpet ensembles from many of the schools where LSSTG members teach. Student ensembles included the following: Angelo State University Trumpet Ensemble GOLD performing Conquest by Erik Morales, McMurry University & Abilene Christian University Trumpet Ensemble performing Groovy Vamp by David Marlatt, Eastern New Mexico University Trumpet Ensemble performing Dürrenhorn Passage by Kevin McKee, Angelo State University Trumpet Ensemble BLUE performing Ice Journey by Jason Basoco, and Eastern New Mexico University Trumpet Ensemble performing Cityscapes: I. Rush Hour by Erik Morales.
Members of the LSSTG reside in an area spanning from the Dallas/Fort Worth Metroplex, Big Country Region (Abilene, San Angelo, Midland, Odessa, Lubbock), and eastern New Mexico. Ensemble members are professional performers and educators representing the following organizations: Abilene Philharmonic Orchestra, Big Spring Symphony, Midland-Odessa Symphony Chorale, San Angelo Symphony Orchestra, Southwest Symphony Orchestra, Big Country Brass, Key City Brass, Lone Star Brass, Texas Camerata, Abilene Christian University, Angelo State University, Eastern New Mexico University, Hardin-Simmons University, McMurry University, Odessa College, Abilene ISD, and Arlington ISD.
The LSSTG received its charter from the ITG in September 2016. The chapter held its inaugural Trumpet Fest two months later at Angelo State University featuring the jazz trumpet icon, Bobby Shew and ITG Vice-President, Cathy Leach. In March 2019, the chapter presented Trumpet Fest II, highlighting the phenomenal virtuosity of trumpeter Rex Richardson, held at Odessa College. The LSSTG has also performed at the 2018 ITG Conference in San Antonio, the 2019 Texas Music Educators Association (TMEA) Convention in San Antonio, at the Episcopal Church of the Heavenly Rest in Abilene, TX, and will return to the TMEA Convention in February 2022. (Source: David Amlung, Department Chair & Assistant Professor of Music, McMurry University)