Clint Linkmeyer to Eastern Mennonite University
Clinton Linkmeyer has been appointed instructor of trumpet at Eastern Mennonite University in Harrisonburg, Virginia.  In addition, he was also recently appointed 2nd trumpet in the Waynesboro Symphony Orchestra (WSO) in Waynesboro, Virginia. He will also serve as assistant stage manager for the WSO.
Linkmeyer is an avid performer, baroque trumpeter, and teacher of brass and music theory from Louisville, KY. Mr. Linkmeyer is passionate about performance, early music, and music theory pedagogy.
A versatile performer, Clint has performed with numerous ensembles in a variety of styles and settings including the Kentucky Bach Choir, the Lexington Brass Band, and the Peoria Municipal Band. As a soloist, he has recently performed William Schuman's When Jesus Wept with the University of Kentucky Wind Symphony. Mr. Linkmeyer is also a proponent of early music and baroque trumpet performance and has recently recorded Sonata for Two Trumpets in D Major by Petronio Franceschini.
As a recording artist, Mr. Linkmeyer can be heard on the albums John Hyde: A New and Complete Preceptor for Trumpet and Bugle Horn, and Andromeda: New Music for Trumpet Ensemble with the University of Kentucky Trumpet Ensemble, as well as on Thomas Traschel: Symphony No. 3, "Apocalyptic" with the Illinois State University Wind Symphony.
Mr. Linkmeyer is currently a doctoral candidate at the University of Kentucky (UK), where he is ABD. During his doctoral coursework, Linkmeyer taught courses in undergraduate music theory as a music theory teaching assistant and also assisted with the trumpet studio. As his doctoral dissertation, Clint is currently researching and writing a modern edition of John Hyde's A New and Complete Preceptor for Trumpet and Bugle Horn.
An active member of the International Trumpet Guild, he recently presented research at the 2021 ITG Conference as part of the "Young Professionals" series, is a regular contributor to the quarterly ITG Journal as a sheet music reviewer, and performed Zae Munn's Trumpet Calls at the 2019 ITG Conference in Miami, Florida.
Clint's primary trumpet teachers include Jason Dovel, Amy Gilreath, and Michael Tunnell.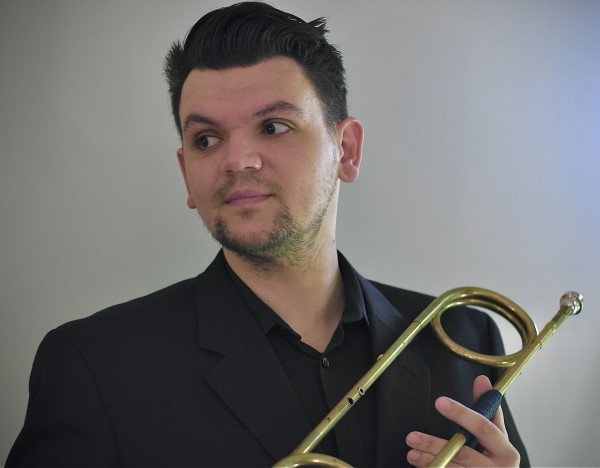 Clint Linkmeyer
(Source: Clinton Linkmeyer)