Dash Duo Trumpet Intensive
Mary Elizabeth Bowden and David Dash presented the Dash Duo Trumpet Intensive July 27–31, 2020 through Shenandoah Conservatory. Guest artists included Tine Thing Helseth, Billy Hunter, Rex Richardson, and Dr. Don Greene.
Twenty-five trumpeters participated from across the United States, including high school, college, and professional (including six players from the Marine Corps Reserve Band in New Orleans). The seminar presented daily warm up /routine classes, two daily master classes, and private lessons with Dash and Bowden. All master classes were interactive, including:
Peak performance with Dr. Don Greene
Piccolo trumpet: solos and excerpts, sound, efficiency, and equipment
Beginning improvisation: learning melodies by ear and transcribing
Classical concerti: style, phrasing, sound color
Etudes: style, sound, and endurance
Entrepreneurship: creating your own business in the time of Covid-19
Auditions: military band and orchestra excerpts, tactics for focusing under pressure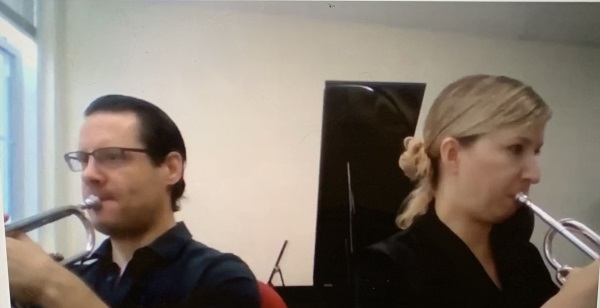 Dash Duo: David Dash and Mary Elizabeth Bowden
Participants were given an 80-page warm up/practice packet including the music for five sample routines and verbal descriptions of several famous trumpet players' routines. Each routine contained sections on breathing, response, flexibility, articulation, and range.
 International soloist Tine Thing Helseth hosted a Q&A on finding balance, defining self worth, touring, life as a soloist, peak performance, and her routine on concert days. 
 
Tine Thing Helseth
Billy Hunter (Metropolitan Opera Principal Trumpet, UT Austin Professor) led a master class which emphasized many valuable insights:
Exaggerate dynamics and energy
Play the rhythms exactly, then add rubato
Upper register- send your sound out into the audience
Never assume, stay engaged all of the time
Just sing
Meditate to find clarity 

Billy Hunter
Dr. Don Greene gave an engaging lecture on peak performance, including centering, symptoms of performance anxiety (physical, mental, emotional), and holistic tactics (sleep, nutrition, mindset). He also answered many specific questions from participants.  

Rex Richardson

Rex Richardson led a warm-up session, where he demonstrated a great balance of creativity and discipline. He allowed time for participants to copy:
Mouthpiece drills: Stamp, double pedals
Improvisation to build creativity 
Lip bends up and down two half steps on all open partials. Every day is a new partial.
"Pop tones" using very little air, for response and accuracy 
Flexibility: small, then wider intervals, increasing speed
Articulations: single, k, double, triple on Clarke 2
Source: David Dash