In memoriam: Al Porcino (1925-2013)
Celebrated musician Angelo Paul "Al" Porcino, who played lead trumpet with Count Basie, Woody Herman, Stan Kenton, and Buddy Rich, and other big bands, passed away on December 31, 2013 in Munich.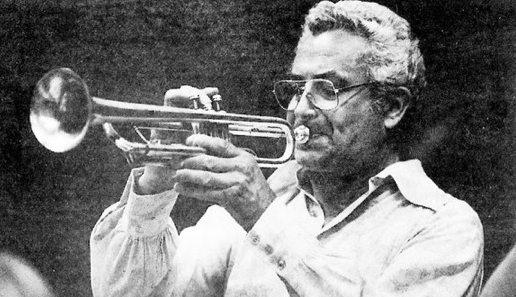 He grew up in Weehawken, New Jersey, and began playing trumpet professionally in his teens. Porcino noted in an interview with Marc Myers in 2011 that he "was called for an audition when [he] wasn't eighteen years old. That's because all of the older guys were in the Army fighting." Porcino was colorblind, so although he was drafted, he was never inducted into the military. He began playing with Louis Prima at the age of 18.
In the late 1940s he established himself as a high-note specialist with the Woody Herman and Stan Kenton Bands. He continued working with them into the 1950s and began working with Charlie Parker and Count Basie. As a studio musician in the 1950s and 1960s, he worked on movie soundtracks and with Frank Sinatra, Ray Charles, Judy Garland, and Peggy Lee. Porcino led his own groups, including a big band that accompanied jazz singer Mel Tormé on "Live at the Maisonette," an album nominated for a Grammy in 1975.
In 1977 he moved to Munich, Germany after leaving the Thad Jones-Mel Lewis Band during a European tour. Porcino led a big band there and performed regularly until shortly before his death.
Sources:
Allen Pekar
New York Times item, January 10, 2014, http://www.nytimes.com/2014/01/09/arts/music/al-porcino-king-of-the-high-notes-on-jazz-trumpet-dies-at-88.html?_r=0

ArtsJournal.com--http://www.artsjournal.com/rifftides/2014/01/farewell-al-porcino.html


JazzWax.com--http://www.jazzwax.com/2011/09/interview-al-porcino-part-1.html

Photo source: http://www.nytimes.com/2014/01/09/arts/music/al-porcino-king-of-the-high-notes-on-jazz-trumpet-dies-at-88.html?_r=0