Brian Walker visit to Northeastern State University
Dr. Brian Walker, assistant professor of trumpet at Tarleton State University in Stephenville, Texas, was a guest artist at Northeastern State University in Tahlequah, Oklahoma on March 11, 2013.
He presented a master class in which he discussed his daily routine and practice fundamentals, with particular emphasis on his recent use of Wiff Rudd's new method book, Collaborative Practice Concepts for Trumpet.
He took the students through several "pipe games" (leadpipe playing exercises) and explained how he has found this useful in his own daily practice. He encouraged the students to play the leadpipe softly and minimize any physical compensations used to move through large intervals.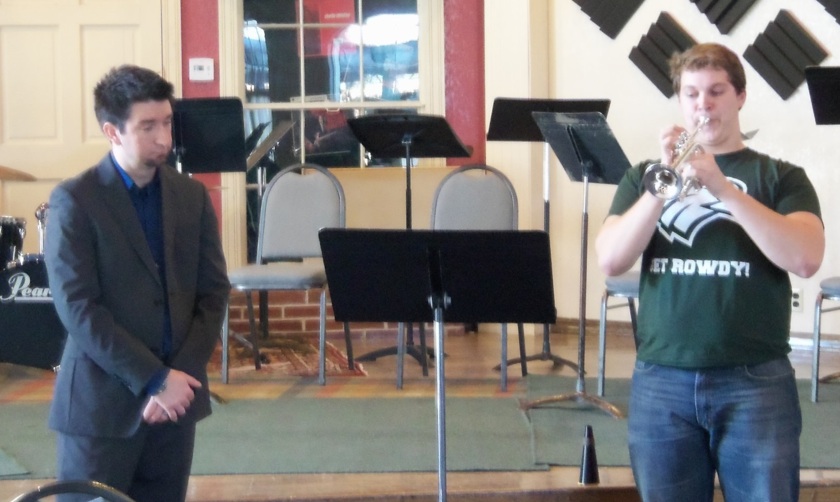 Afterward, Walker coached NSU students on various solo pieces. He worked with NSU sophomore performance major Sean Ryan on piccolo trumpet technique on Handel's Suite in D. He encouraged the student to clarify technical passages by looking for "checkpoint" notes and making sure those notes sound good. He had Ryan play the skeletonized version of tricky technical passages while focusing on certain "checkpoint" notes, and there was obvious and immediate improvement in the student's playing. Walker then worked with NSU junior performance major Jared Wallis on the trumpet concerto by Edward Gregson. He talked about the importance of not overplaying some of the aggressive sections that are marked leggiero. He encouraged the student to listen to Christopher Moore's recording of this piece with trumpet and piano in preparation for future performances.
Source: Jason Dovel, Professor of Trumpet, Northeastern State, Talequah, Oklahoma