2013 Exploring Trumpet in Greece
The second Exploring Trumpet in Greece music festival took place from January 3-10, 2013 in Kalavrita, Greece, organized by Vince DiMartino and Greek trumpeters Gerassimos Ioannidis and George Babarakos.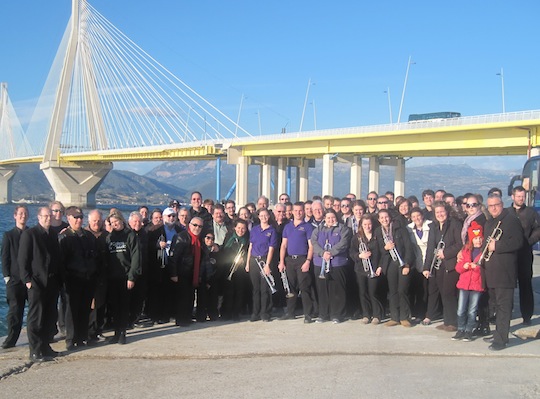 The first festival took place in 2006. Barbarakos served as the artistic director of this festival, as he has done for many festivals in Greece since 1997. The 2013 faculty included Alan Hood (University of Denver), Bradley Ulrich, Larry Black (Western Carolina University), Chris McCourry (Hillsdale College), Daniel Zehringer (Wright State University), Edward Reid, Jeffrey Haskell, Moises Paeiwonsky (University of Arizona), Jason Dovel (Northeastern State University), Joseph Van Fleet (Eastern Kentucky University), Rich Illman (Michigan State University) and Todd Hastings (Pittsburg State University). Fifty students participated in a course full of master classes and events and performed in two concerts held in Kleitoria and Patra.
The special guest artist this year was trumpet soloist David Hickman who performed a recital accompanied by his wife, Miriam Hickman on piano. Towards the end of the recital, DiMartino and Ioannidis joined him in playing Rafael Mendez' trumpet trio The Brave Matador. Hickman also gave two master classes to the students in the festival.
In addition to duties to the festival, the faculty also visited some of the most important historical monuments of Greece, such as the Acropolis and Ancient Olympia, the birthplace of the Olympic Games.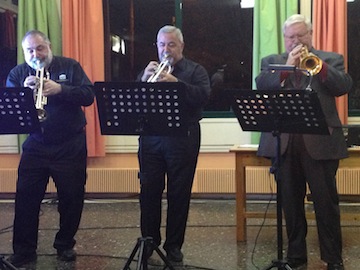 Looking to the future, DiMartino, Babarakos and Ioannidis are planning to organize a festival dedicated to jazz music that will be called Exploring Jazz in Greece.
Source: George Babarakos, Christina Barlogianni