2012 Midwest Trumpet Festival
The fourth annual Midwest Trumpet Festival was held October 14 and 15, 2012, in Pittsburg, Kansas, on the campus of Pittsburg State University.
Dr. Todd Hastings, Professor of Trumpet at the University, hosted the event. In four short years, the festival has become one of the most popular trumpet events in the midwestern United States with large and small education sessions, a positive and welcoming philosophy toward all participants, master classes, and recitals and concerts.
Guest Artists this year included Byron Stripling, International Trumpet Soloist and Artistic Director of the Columbus Jazz Orchestra; Ryan Anthony, Principal Trumpet of the Dallas Symphony and former member of the Canadian Brass Quintet; Alan Hood, Associate Professor of Trumpet at the University of Denver; Tito Carrillo, Assistant Professor of Jazz Trumpet at the University of Illinois at Urbana-Champaign; Dr. Iskander Akhmadullin, Associate Professor of Trumpet at the University of Missouri; Dr. Natalia Bolshakova, Adjunct Professor of Piano/Accompanying at the University of Missouri; Dr. William Richardson, Associate Professor of Music at Northwest Missouri State University; Dr. Jason Dovel, Assistant Professor of Trumpet at Northeastern State University; Dr. Andrew Cheetham, Assistant Professor of Trumpet at Eastern Illinois University; Dr. Tom Smith, Professor of Trumpet at Edison State College; and the Crowder Jazz Orchestra.
Dr. Todd Hastings opened the ceremonies by welcoming all those in attendance, followed by the Pittsburg State University Trumpet Ensemble performing Canterbury Flourish by Gordon Jacob. Immediately following opening ceremonies, Byron Stripling presented a master class to an appreciative and enthusiastic audience of trumpet players that ranged in ability level from beginners to professionals. He stressed the importance of the fundamentals of trumpet playing including focusing on one's sound, the importance of practicing every day, and the need to model the masters through creative emulation.
Next on the event schedule, Dr. Jason Dovel led a group trumpet ensemble reading session. More than seventy college, high school, and middle school trumpet players participated together on the main stage sight-reading various ensemble works en masse. Following the reading session, guest artist faculty members Richardson, Cheatham, Smith, and Akhmadullin led a junior/senior high school student and teachers trumpet master class. Students performed excerpts from solo literature they had prepared, and they received coaching on ways to improve their performances. Tips on breathing, articulation, the use of vibrato, and stylistic considerations were discussed for works by Hindemith, Tomasi, Goedicke, and Arban.
The highlight of the first day of the festival came with the evening concert, featuring The Crowder Jazz Orchestra, led by Todd Hastings, and starring festival guest artists Byron Stripling and Tito Carillo. A packed concert hall listened to a variety of tunes, which included a duet by Hastings and Carillo, The Booze Brothers, followed by Carillo performing What Is This Thing Called Love? Stripling sang and played trumpet on Ooh Pah Pa Da, St. James Infirmary and The Sunny Side of the Street. Multiple encores were called for by the audience to standing ovations.
The second day of the festival began with a lecture by Stripling entitled "Pops" and Mr. Gillespie, in which he gave a brief history of the beginnings of jazz in New Orleans and spoke of the genius of Louis Armstrong and Dizzy Gillespie. He expressed how every language has a vocabulary and an accent, including jazz. His insights into the art form, its traditions, and notable figures were inspirational to all in attendance. He spoke of how "musical notation is inadequate for jazz expression," and how the study and performance of jazz requires "imitation, assimilation, and innovation."
Following Stripling's lecture, Ryan Anthony presented a master class that featured several student participants playing excerpts from solos they had prepared. His comments included his belief that soloists "have a responsibility similar to that of the composer's, in that they have to infuse the feeling and passion personally into the music." He emphasized that the reason to practice technique is that it enables one to "get beyond the notes" and to fully express the music to the audience. He also spoke of how to approach the audition experience and shared his own personal experiences with the Canadian Brass and the road to his present position with the Dallas Symphony.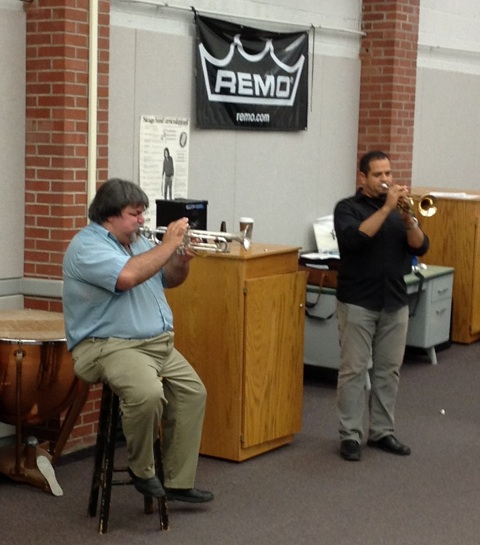 Afternoon sessions included a question and answer panel discussion about careers in music, with all guest artist faculty participating. A master class on jazz improvisation by Alan Hood and Tito Carillo followed, with fifty trumpeters of all ages participating. Afternoon activities were topped off with a student spotlight recital which featured students from the Pittsburg State University Trumpet Ensemble; the Northeastern State University Baroque Trumpet Ensemble; the Northwest Missouri State University Trumpet Ensemble; and student soloists from the University of Missouri, Pittsburg State University, and Eastern Illinois University.
The festival concluded with the final concert presented by guest artist Ryan Anthony accompanied by pianist Natalia Bolshakova. Anthony displayed his artistry and skill as he performed on piccolo trumpet, Bb and C trumpets, cornet, and flugelhorn. Works included on the program were Telemann's Concerto in D; Honegger's Intrada; Gabriel Fauré's Après un Rêve; Mozart's Queen of the Night; Roy Milligan's Dreams of Karen; Herbert L. Clarke's Maid of the Mist; Duke Ellington's Echoes of Harlem; and George Gershwin's Someone to Watch Over Me. The festival crowd showed their appreciation with a standing ovation and was rewarded with an encore by Anthony of La Virgen de la Macarena.
Source: Dr. Tom Smith, Professor of Trumpet, Edison State College, Fort Myers, Florida