Doc Severinsen at Henderson State
Doc Severinsen was a guest artist at Henderson State University April 4-6, 2019.
Thursday, April 4, 2019
Doc Severinsen arrived at Henderson State University about two hours before his clinic on jazz improvisation; he began inspiring students as soon as he started warming up.  Although he was intently focused, several students were able to visit with him during short breaks.
Doc's clinic was educational, inspiring, funny, and deeply personal.  He shared knowledge and lifelong experience with jazz.  Rather than focus on the mechanics of chord progressions and appropriate scales, Doc focused on the big picture:  how to approach improvisation, historical precedents, and what to listen for in recordings.  Although he did not play, Doc sang several of Louis Armstrong's trumpet solos – his style, pitch, and vocal quality accurately portrayed Armstrong's chracter.
Friday, April 5, 2019
After arriving at about 4 pm to warm up, there were opportunities for students to listen to Doc and briefly talk with him.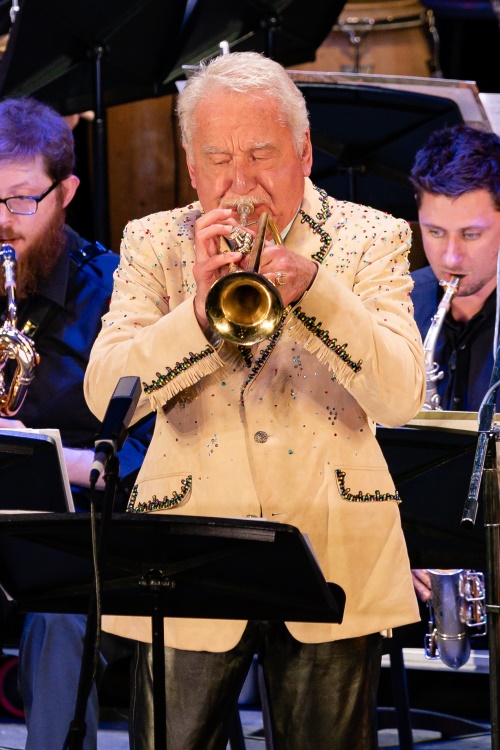 That evening, Doc rehearsed the Arkansas All-Star Big Band for nearly two and a half hours.  He knew what he wanted to hear and how to get results while putting the musicians at ease.  The rehearsal was open only to HSU Guild members.
Saturday, April 6, 2019
Doc again arrived around 4 pm to warm up, providing an opportunity to listen and visit that several students seized.  At 5:30, Doc began a sound check with the All-Star band which lasted until about 6:40.  By this time, the audience was gathering in the lobby and quite excited to hear Doc and the band playing through the less-than-soundproof doors.  The concert was virtually sold out, drawing people from a several-hundred-mile radius.
The performance began at 7:30 pm with two pieces by the All-Star band, and then Doc entered to thunderous applause during the Tonight Show's Johnny's Theme No. 2.  Next was I Want to Be Happy and September Song. Doc's playing and his great sense of humor captivated the entire audience.  A final chart by the big band ended the first half.
The second half began with three pieces from the big band, then Doc returned with Night in Tunisia, which began with a slow, moody introduction before kicking into high gear. Georgia was the last number on the program and was followed by 12 O'Clock Jump as the encore.

Doc Severinsen with the Arkansas All-Star Big Band trumpet section
(Source: Jim Buckner)