2012 Ellsworth Smith International Trumpet Solo Competition Results
An outstanding week of performances, master classes, and events concluded on Sunday, September 10, 2012. The event was hosted by Dr. Jean-Christophe Dobrzelewski at West Chester University and sponsored by the International Trumpet Guild in conjunction with the Columbus Foundation.
The finalists/winners follow:
1st Prize - Ryan Beach (USA) $10,000
2nd Prize - Bastien De Beaufond (France) $5,000
Finalist - Aaron Hodgson (Canada)
This year's competition included additional support for the winners. Ryan Beach also received a $4,200 award from MSR Classics record label to be used in the production of a compact disc, an invitation to perform at the 2013 ITG Conference, and an invitation to perform and present a clinic at the 2013 Tromba Mundi Trumpet Ensemble Institute hosted by Messiah College. Aaron Hodgson -- who earlier distinguished himself by having the best premiere of Martin Rokeach's Running at the Top of the World -- was presented with a $500 award in music from Hickman Music Editions by judge David Hickman.
The competition featured a very high level of artistry, and attendees were treated to hear all of the performances, particularly those by artist/judges Eric Aubier (French soloist), David Bilger (Philadelphia Orchestra), and David Hickman (Arizona State University). Thirty-four applicants entered the competition from Austria, Brazil, Belgium, Bulgaria, Canada, France, Hungary, Korea, Mexico, Taiwan, United Kingdom, and the United States.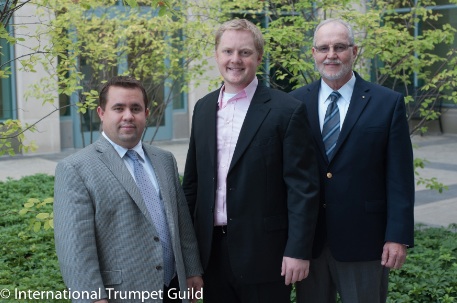 Sources: Luis Engelke, John Irish, Robert Skoniczin
Photography: Michael Anderson