Tribute to Maurice André, Paris, St. Roch Church, May 15, 2012
The St. Roch Church in Paris hosted a special tribute performance to Maurice André on May 15.
The event included performances and speeches by several different people. Speakers close to André included Père Philippe Desgens, Nicolas André who thanked and congratulated everyone for the tribute, and Guy Touvron, who spoke about his teacher and read a text by Charles Péguy.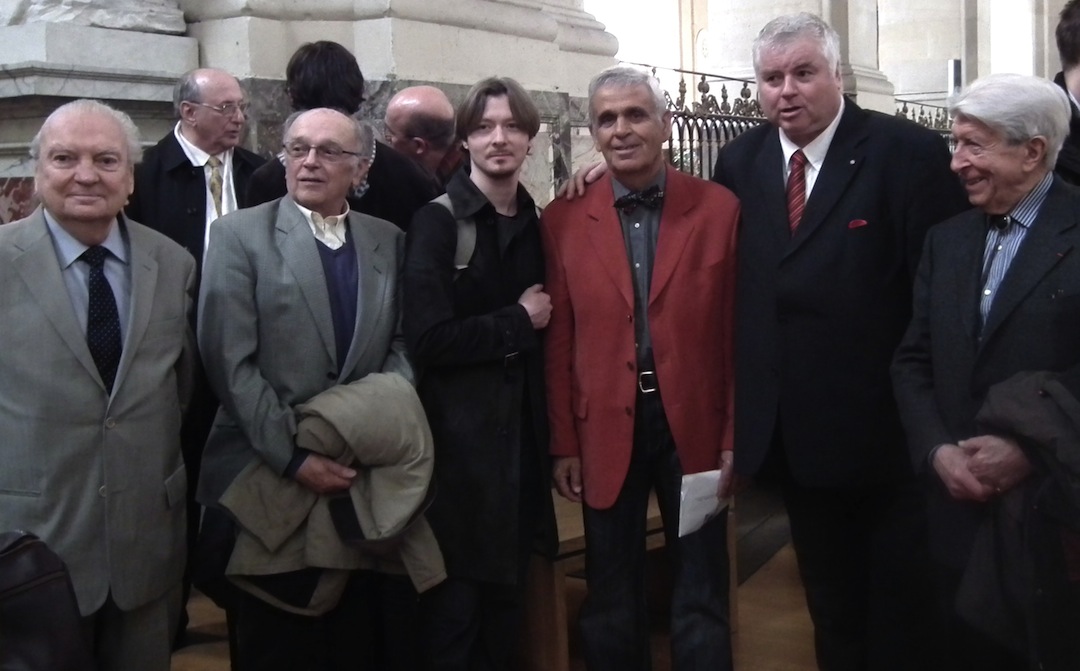 The event opened with three short fanfares performed by four trumpeters from the Garde Républicaine. After the fanfares, a mass trumpet ensemble assembled for the event, conducted by Gaêtan Kuchta, performed Rob Roy McGregor's setting of César Alejandro Carillow's Ave Maria.
In the tribute, several trumpeters gave solo performances with the Bernard Thomas Chamber Orchestra conducted by Bernard Thomas, himself. Performers included Sergey Nakariakov playing the aria from Bach's Suite in D no. 3 on his four-valve flugelhorn, Guy Touvron playing the Adagio from a concerto by Marcello on piccolo trumpet with the group, Eric Aubier playing the first movement of the Tartini Concerto in D, a piccolo-trumpet work made famous by André, and Bernard Soustrot playing the finale from the Vivaldi-Bach Concerto in A minor on the piccolo trumpet. The orchestra also played the Andante Religioso Grieg's Suite Holberg. Under Gaêtan Kuchta's baton, Thierry Caens and René Caron performed their flugelhorn duet of Emmanuel by Michel Colombier with the group. Mineo Sugiki gave the introduction for the performance of his work, Music pour un Départ played by six trumpeters and the orchestra. The work is a call and response between a trumpet choir (Caens, Soustrot, Olivier Theurillat, Murray Grieg) and a solo trumpet (Sugiki) with a counterpart (Touvron).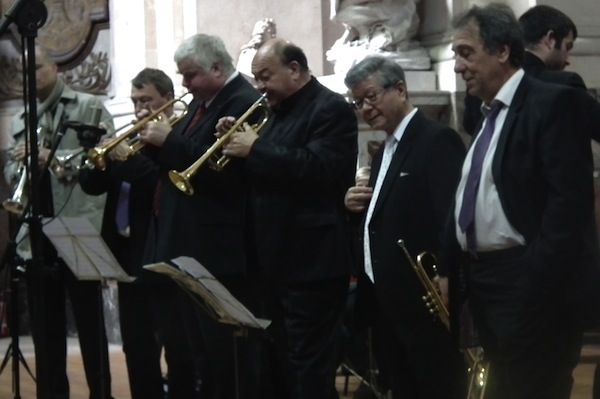 Several other performers occurred in the tribute, as well. Nassim Maalouf (73), father of Ibrahim Maalouf, performed a solo improvisation on his four-valve quarter-tone trumpet. Guy Touvron conducted his large brass ensemble of the Regional Conservatory of Paris in Grieg's Funeral March. The Trumpet Ensemble of the National Superior Conservatory of Music of Paris, conducted by Antoine Curé, performed a modern piece for ten trumpets by Wernick. To end the concert, the mass trumpet ensemble joined by the trumpeters of the Garde Républicaine and Mathias Lecomte on the organ, played Jean-Claude Francon's setting of the "Triumphal March" from Verdi's Aida conducted by Kuchta. The audience responded so positively that the piece received a second performance.
The mass trumpet ensemble included tribute organizers Thierry Caens, Guy Touvron, and Bernard Soustrot, as well as Sergey Nakariakov, Nassim Maalouf, Olivier Theurillat, Murray Grieg, René Caron, Mineo Sugiki, A. Sasakawa, Tomoko Ohno, Alain Parizot, Michel Laplace, Jean-Louis Masson, Michel Lamarche, Pierre Jacquier, Maurice Chiarinelli, Jean-Claude André (not related), Daniel Villette, Romain Leleu and other performers. Together with Nicolas André, son of Maurice André, Raymond André, brother of Maurice, Jean and Christian Polge, cousins of Maurice André, Yves Remy (Gazette des Cuivres), many other brass personalities attended this tribute, including Roger Delmotte, Pierre Pollin, Yves Couëffé, Dino Tomba, Max Lacoume, Elisabeth Nouaille-Degorce, Patrick Fabert, jazz trumpeter Michel Bonnet and the trombonist Jean Douay.
Source: Michel Laplace
Photo source: Michael Laplace
Photo 1: (L to R) Pollin, Coueffe, Nakariakov, Raymond Andre, Caens, Roger Delmotte
Photo 2: (L to R) Theurillat, Greig, Caens, Soustrot, Sugiki, Touvron