In Memoriam: Bill Cardwell
ITG News has learned of the passing of Bill Cardwell, considered the father of the modern leadpipe.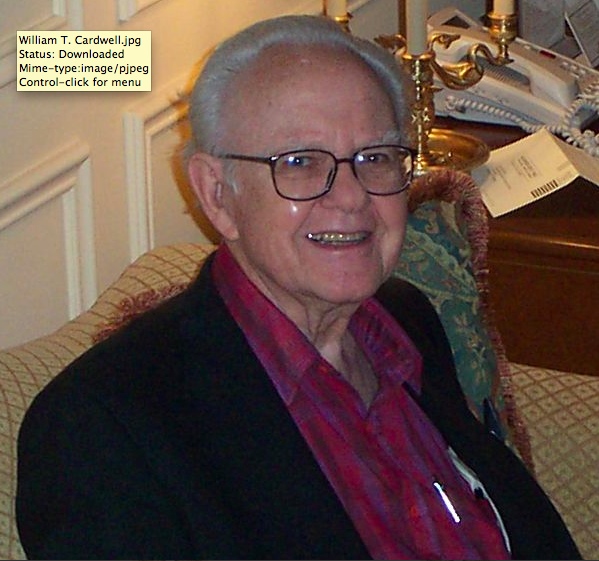 Trumpet acoustician William T. (Bill) Cardwell passed away May 17, 2012 in Whittier, CA at the age of 94. Cardwell started playing the trumpet when he was nine and studied trumpets throughout his life. An employee of the Chevron Research branch of Standard Oil of California, Cardwell created a lab in his home to study trumpet acoustics. He was instrumental in the design of the Olds trumpets of the mid-1970's and had a patent on one of them.
Source: Kim Dunnick
---
Excerpted from a letter by R. Dale Olsen:

Possibly few of those who will read this knew Bill Cardwell, and perhaps an even smaller number have ever read and studied his landmark United States Patent #3,507,181, of April 21, 1970.  Bill Cardwell was, in the opinion of the few who understood his work, one of the finest minds that ever addressed the issue of tapered sections of trumpets, and, as such, was the ultimate authority on trumpet design.  Bill was the authority to whom other authorities turned for advice.  As with many great men, the profundity of his work, underscored by a soft, gentle, humble personality, went largely unnoticed, often overshadowed by the exaggerated, and nearly universally unfounded, claims of "designers and gurus" whose mental acuity and technical expertise does not allow comprehension of the depth of Cardwell's concepts.

Professionally, Bill was employed by Chevron Research in LaHabra, California for over 40 years in various technical capacities.  His hobby of trumpet design was such that his home acoustics lab was larger and more professionally created and operated than those of any trumpet manufacturer.  Quietly, and unnoticed by all but a few colleagues such as K.O. Skinsnes, Zig Kanstul, Cliff Blackburn, and some of the finest trumpet players in the world, Bill worked on the tapers of bells and leadpipes which would produce precisely the goal of "perfect" intonation, while controlling and manipulating the tonal quality.  His work was epitomized in the 1970s by creation of four different trumpets, each possessing the same intonation pattern, but with tonal qualities covering most of the wide spectrum demonstrated by contemporary trumpets, cornets, and flugelhorns.  Acoustically, each model possessed a different "cut-off" frequency, the point in the upper register where pronounced resonance peaks ceased to exist.  One model was commercially produced as the Olds CHR and Reynolds ERA.  Bill was also associated with Cliff Blackburn, not only in a consulting capacity, but as a close personal friend.

For many years, Bill and I would meet at the local IHOP restaurant in Fullerton, California, and discuss trumpet design and acoustics.  Bill brought a stack of papers to discuss with me, and I had a pile to share with him. Our meetings would typically extend to four to six hours.  On one memorable occasion, we met at 8:00 a.m. and remained until lunch, at which time Bill suggested we either leave to allow others to be seated, or order lunch.  We ordered lunch, and continued to talk into the afternoon.  Bill and I referred to our visits as the "IHOP International Conference on the Acoustics of The Trumpet".  It was a very small "conference", as no one else was ever invited!

As the ITG Conference begins next week, it will do so without Bill and Betty Cardwell.  For most of the Conferences prior to 2000, Bill and Betty were perennial fixtures.  As this Conference starts, the double Cs will drown out the subtle memory of Bill Cardwell's life and work.  It would be nice, but unexpected, if somehow, someone could officially recognize that we have just lost a giant.

I will never be able to walk into an IHOP without a tear in my eye.
Source: R. Dale Olsen